Digital printing does not use any tooling or plates to print, instead it transfers a digital image from computer to printer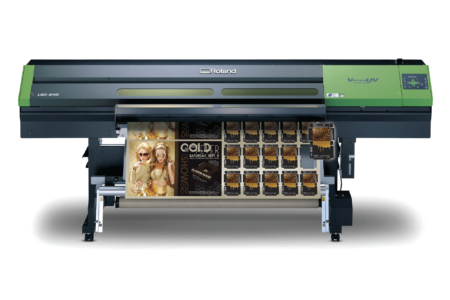 This print process is ideal for one off's or very short runs due to its quick set-up. Less so for large volumes due to the slower printing speed of the machines. Ink is transferred to the substrate with precise droplet placement from print heads.
Here at The Label Centre, we have a fleet of wide format digital printers.
3 x UV printers (2 x LEC-540, 1 x LEC2-640) and 1 x solvent printer (XR640). All 4 printers have print and cut technology meaning they can print and cut contours in the same operation, they automatically contour cut virtually any shape for unmatched versatility. The main difference between our UV and Solvent printers is the ink formulation and print technology.
Our finishing department allows us to add laminate to all our printed substrates and also create special media constructions by laminating adhesives to raw plastics. Labels are mainly finished in manageable sized sheets.
No Plate or Tooling
Quick Set-up Time
Micro, Low, Medium Quantities
Colourgate Colour Management
ISIS2 Colour Profiler
Print & Cut Capability
Ability to Laminate
RFID Insertion
Variable Information Printing
UV Printers Print CMYKW + Varnish
Solvent Printer Prints CMYK (Inc LM, LC, LK)
High Print Quality 1440 dpi
Max Print Width 1370mm (UV)
Max Print Width 1600mm (Solvent)
Almost Any Substrate up to 1mm Thick
Solvent Ink, Heat Dried
UV Ink – UV Lamp Cured (Very Durable)
Under Surface Printing
"Thank you to Derry and everyone else at The Label Centre for your efficient and high-quality service. I highly recommend!"
Simon, Industrial Labels & Nameplates Ltd.
"Professionalism, Quality, Responsiveness, Value"
Mick Detheridge, MD Mobile Caravan Services.
"Labels made to order Good prices fast service what more would you want would recommend"
Phil Wright, Google Review.