A traditional printing method with contemporary features that benefit the ever popular demand of unique applications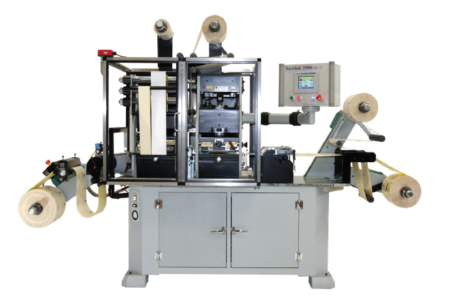 Hot foil printing is a traditional print process whereby coloured foil is transferred to a substrate at high temperatures. It uses a plate, heat, pressure and foil. This is known as dry printing because the process doesn't involve ink. An impression is made by heating a plate which stamps foil onto the material surface leaving the design. This is then pulled through to be cut to size. Tooling is required for each colour and shape which are fairly low cost.
Flatbed die cutting has the ability to die-cut a vast range of substrates including paper, vinyl, polyester, polycarbonate and Kapton to name a few. In addition, our machines can laminate in-line without the need for multiple passes through different machines. Short to medium runs can be produced economically at point of use for immediate application, no inventory, no minimum quantities and no surplus stock. Any damaged or imperfect labels can be recognized and rectified immediately, without excessive waste, thereby reducing overall label costs.
As well as producing finished labels in one pass, our flat-bed machines also allow us to auto re-register pre-printed media from other machines (such as digital / flexo). Examples of this scenario may be where a more complex print or variable data design is required. We have the option to further enhance with metallic / holographic foil, laminate, hole punch, die cut, perforate or sheet giving us great flexibility.
Print Metallic & Holographic
Print up to 6 Colours
Low-Cost Tooling
Low, Med Quantities
Print & Cut Capability
RFID Insertion
Print onto Any Substrates
Ability to Laminate & Emboss
Finish is Rolls or Sheets
"Thank you to Derry and everyone else at The Label Centre for your efficient and high-quality service. I highly recommend!"
Simon, Industrial Labels & Nameplates Ltd.
"Professionalism, Quality, Responsiveness, Value"
Mick Detheridge, MD Mobile Caravan Services.
"Labels made to order Good prices fast service what more would you want would recommend"
Phil Wright, Google Review.